Important! Use our FREE Nimbus Capture software to submit your screenshots and Screen Videos with your posts and comments. It will be easier to all community to understand your problem or suggestions!
Во время написания текста в приложении (Win10) (было написано много текста) произошла синхронизация и затерла 30 минут написания информации без возможности восстановления
Pc ver нет пароля на заметки

It does not allow screen capture on the second monitor. Please add this feature
The Windows Desktop app isn't working properly when trying to capture a custom size. When I hover the mouse cursor over a side or corner of the preconfigured box the cursor changes to an expansion symbol.  But then when I click on the box at that location, the box just disappears.
I migrated my ~2400 notes from Evernote and after using the exb file that worked very well.  About 100 notes didn't sync to the cloud but after modifying them (add a space), that is all good so I figured time to move on with testing.
Is there any way to have a preview of PDFs in the windows editor?  It seems awkward how attachments are accessed.  One major use case I have is business cards; I have scanned them into Evernote in the past as PDF, tagged them as Business Cards, and I can search them with OCR.
That leads me to the next issue; I did pay for the Pro subscription, but all of my imported PDFs aren't ocr'd; a search never picks them up so in the case of my scanned business cards they never come up.
And is there any way to speed up search?  It freezes the app and seems very slow.
I really wanted this to work, but if the OCR/search aren't working well then I'll have to ride out Evernote for another year and hope they keep operating.
It seems the sever is down suddenly, and always show "Authenticate failed". Could you please help check.
Every time I try to stop a screen recording using a shortcut, it doesn't work, and Nimbus ends up crashing.

Windows 7SP1 x64 и Nimbus Capture 4.1 (вроде как самый свежий).
Последовательность действий вот какая:
Запускаю запись области экрана (ну, то что Record Fragment или Ctrl+F10 по умолчанию)
Перед записью показывается обратный счётчик 3...2...1 и сообщение "Press Ctrl +F9 to stop recording"
Теперь если во время показа счётчика я нажимаю Esc для отмены (ну, скажем увидел, что область не ту выделил), то Capture падает: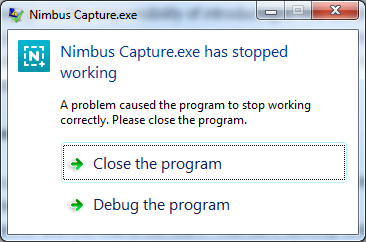 В логи при этом прилетает вот что:
Exception code: 0xc0000005
Fault offset: 0x72747362
Faulting process id: 0x3fac
Faulting application start time: 0x01d301f6a5dd75aa
Faulting application path: C:\Program Files (x86)\Nimbus Capture\Nimbus Capture.exe


ТшьУверенно воспроизводится на разных компах с Win 7 и Win 8.1. На Win10 не проверял.

Дано следующее - Windows 7 SP1 x86, интернет через прокси, который требует авторизации, установлены десктопные Nimbus Note и Nimbus Capture.
Nimbus Note работает при вот таких настройках: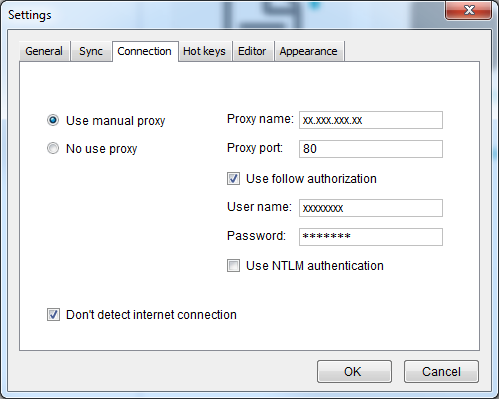 (что любопытно, что опция "Don't detect internet connection должна быть установлена, иначе не соединяется)
Однако в Nimbus Capture такой опции настройки интернет соединения нет и попытка залогиниться и отправить скриншот из Nimbus Capture прямо в Nimbus Notes выдаёт мне вот такое сообщение: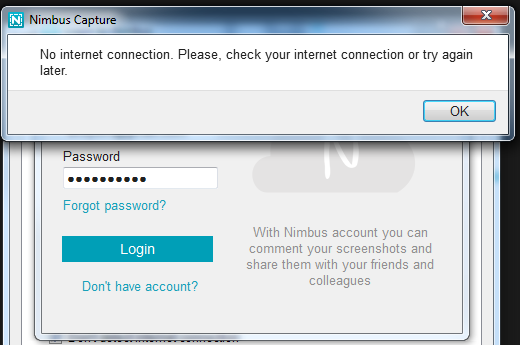 Теоретически если Nimbus Capture и Nimbus Note установлены на одном компе - можно ведь отправить скриншот вообще в обход интернет соединеня? Ну или расширенную опцию настройки соединения добавить?
Андрей.